Planning a baby shower?
Think of all the fun things you get to do to plan this baby shower! But let's not get ahead of your self. When are you going to have the baby shower? Plan that party during the last trimester of pregnancy or you could wait till after the baby arrives. Before weeks 37 of the pregnancy is probably a safe bet. Especially since a full term pregnancy is anywhere between 37-42 weeks of pregnancy.
Give your guests 6 weeks advance notice. Don't make an e-invitation on the Internet or on Facebook. That's so impersonal. There are many clever ideas you can come up with for a great party. Opening a fun and inventive invitation builds excitement for the event.

Party themes are great for a baby shower and let your creative juices flow, but it's best to start with the things the expecting couple need and want. Is she registered somewhere? There may be some expensive items on her list so that a few people could share the expense. You can also get people to bring a small gift related to a theme for the party, or set up a sign up sheet to bring a prepared meal for after the baby arrives.
Once you've figured out a theme, or a color to decorate around, Beaucoup – Swoozie has some amazing ideas and deals on favors, décor & customized gifts!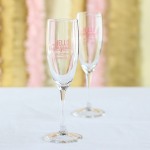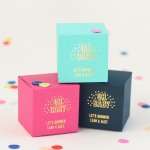 Make this a fun and memorable event that everyone will be talking about for years afterwards. Let those creative juices flow. Start with cute Baby Shower Favors for guests to take home.

From fun milk jars with paper straws for the kids to drink from, elegant stemless wine glasses for the adults and décor/favors including confetti balloons, chocolate covered oreos for a treat and candy buffet supplies in blue, yellow and pink, you'll find everything you need to plan a perfect shower.
You Gotta Have Games!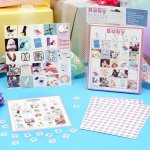 Baby Shower Bingo Game – $15.29
from: Beau-coup.com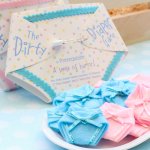 Dirty Diaper Game – $23.90
from: Beau-coup.com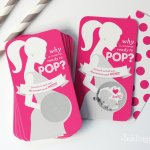 "Ready to Pop" Scratch Cards Game – $14.98
from: Beau-coup.com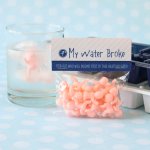 "My Water Broke" Baby Shower Game – $29.90
from: Beau-coup.com
Give mom-to-be a keepsake item.
Make one of the items very personal and something she'll treasure for a long time. The perfect interactive baby shower gift, this set comes with one metal tin filled with 24 cards. Each card is pre-printed with three prompts for guests to fill in with words of wisdom for mom and baby. They read:
"I hope you always…"
"I hope you learn to…"
"I hope you never forget…"
Cards come packaged inside the metal tin, which comes wrapped in a natural muslin drawstring bag hand-stamped with the message "Hello world". Baby Shower Wishes Gift Tin with Bag – $20.95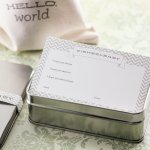 from: Beau-coup.com
Maybe you just need a gift.
If you're feeling generous, you can splurge on a Baby Gift Basket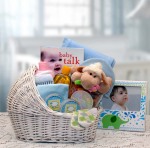 If your budget is a bit more limited a personalized Layette Gift Set is adorable.
But if you want to give her something unique for your friend's baby that's great.  Think about the kinds of things your friend and her partner are interested in or love to do. Do they have a shared hobby? Do they like the latest fashions? Or are they realy down-to-earth or back-to-nature kind of people? Do they have a good sense of humor or are they a bit more serious? Sentimental or romantic? Do they love to travel or go camping?  Consider all these thing when you choose that perfect and totally unique baby shower gift. If they know baby's gender that's helpful. People just love to buy clothing for girls and boys are happy with sticks and balls! Make sure you include a gift slip so they can exchange if the gist isn't the right size or they got more than one.
There's nothing cuter than a freshly bathed baby wrapped in a little shark towel, pink or blue!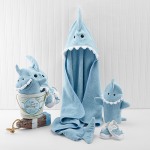 Everyone loves the milestone photos of your baby that you can post to your social media accounts.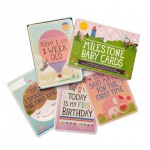 The personalized photo frames for Mom and Baby or even a pre-made diaper cake make great options.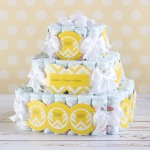 Personalized Baby Shower Diaper Cake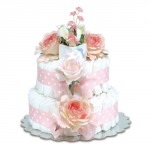 You can even find a monogrammed baby blanket. Click here to discover everything you need to throw or attend the perfect shower for baby, mom and dad: baby shower supplies.
And….HAVE FUN!